Image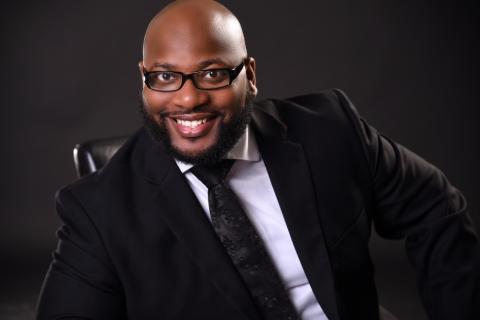 Pastor Stephen T. Ivey is the oldest child and only son of the late Rodney S. Ivey and Erica Woodfork Ivey. A Tulsa native, Stephen, or "Professa" as his friends affectionately call him, comes from a rich lineage of preachers and musicians, reaching back a total of five generations.
Following the leading of the Holy Spirit, Stephen accepted his call to preach in the winter of 2004 and was licensed and ordained to preach the Gospel in June 2005 by Rev. Anthony Folks, pastor of Mt. Zion, BC, in Boynton, Okla. Since then, he has been actively ministering the Word of God. With a firm belief that there is transformative power found in the love of God, Rev. Ivey seeks to share that love for the edification and transformation of all of God's children. He is driven by a passion for God, God's people, and the preaching and teaching of God's Word.
His philosophy for ministry is what he calls his "Rule"; Restoration, Understanding, Love and Empowerment. To sum up his ministry, it would be to "ignite hope and inspire healing." Rev. Ivey's favorite scripture is Galatians 6:9, which says, "And let us not be weary in well doing: for in due season, we shall reap if we faint not."
Pastor Ivey is also an accomplished musician and Gospel music artist who was privileged to serve as an adjunct professor at the University of Arkansas, where he led the University's Gospel Choir, The Inspirational Chorale." As a songwriter/producer, Pastor Ivey also created Ivey League Productions/Enterprises to specialize in creating music of all kinds to reach the soul of all kinds. The company has since released two albums, one EP, and three singles; they are currently working on a few albums for release in the very near future.
Pastor Ivey holds a Bachelor of Arts in Interdisciplinary Studies and African/African American Studies from the University of Arkansas in Fayetteville, Ark. He is the proud husband of Mrs. Ashlie (French) Ivey, and together they have four children: Taylor, Josiah, Lillian, and Stephanie.